How To Burn Fat By Using a Treadmill
Can you really burn fat by using a treadmill?
With treadmills becoming more popular for home use many people are wondering if they should get one if they want to burn some fat. There are those who say that you can't burn fat by just walking and that you need to weight train or do some type of aerobics to get your cardio up and your heart pumping.
Now who is to say that you can do this on a treadmill?
Have you used any of the newer treadmills?
Many have speeds that are faster then they were in the past and also many treadmills incline to make you work harder while you are working out.
Have you ever tried to walk at a 5 MPH speed while your treadmill is set to a 20% incline?
If so then you know that it is one heck of a workout. Within the first few minutes you find yourself breathing much harder, you begin to sweat and you can definitely feel your heart rate rise.
You can also use hand weights while you want if you want to do some upper body work while your lower body is working out.
There are also some people that like to wear a weighted walking vest while on a treadmill for the added workout that they get and then as they get more fit they can add additional weights to the vest. If you have thought about getting a weighted vest look at one that is at the 20 pound level and one that allows you to add as little or as many weights up to the 20 pounds.
Many allow you to start off by just wearing the vest for a workout, and then as your progress you can add in additional weights at 2 pounds each time ( that would be pound on each side). Although 2 pounds may not sound like much it starts to add up and you really start to feel it at the 10 pound level.
There are some vests that can hold up to 150 pounds but it does take quite a long time (if ever) for you to read that level. Usually bodybuilders can tolerate the added weight but a walker or runner can't.
For several more great tips watch the video below.  It is one of my personal favorites (and no I don't get anything for recommending it to you – I just like it.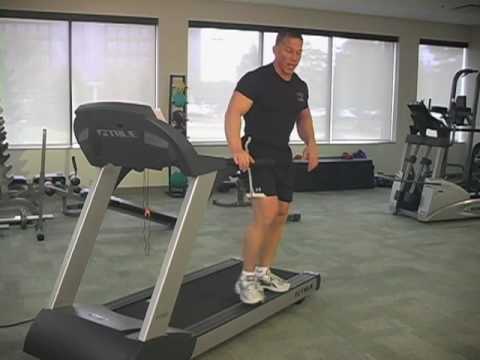 There are a few other treadmill videos that I also really like and will add them in the next few weeks.
For now enjoy watching how you can perform interval cardio on your treadmill and burn fat.